Custom wedding stationery hand made in the UK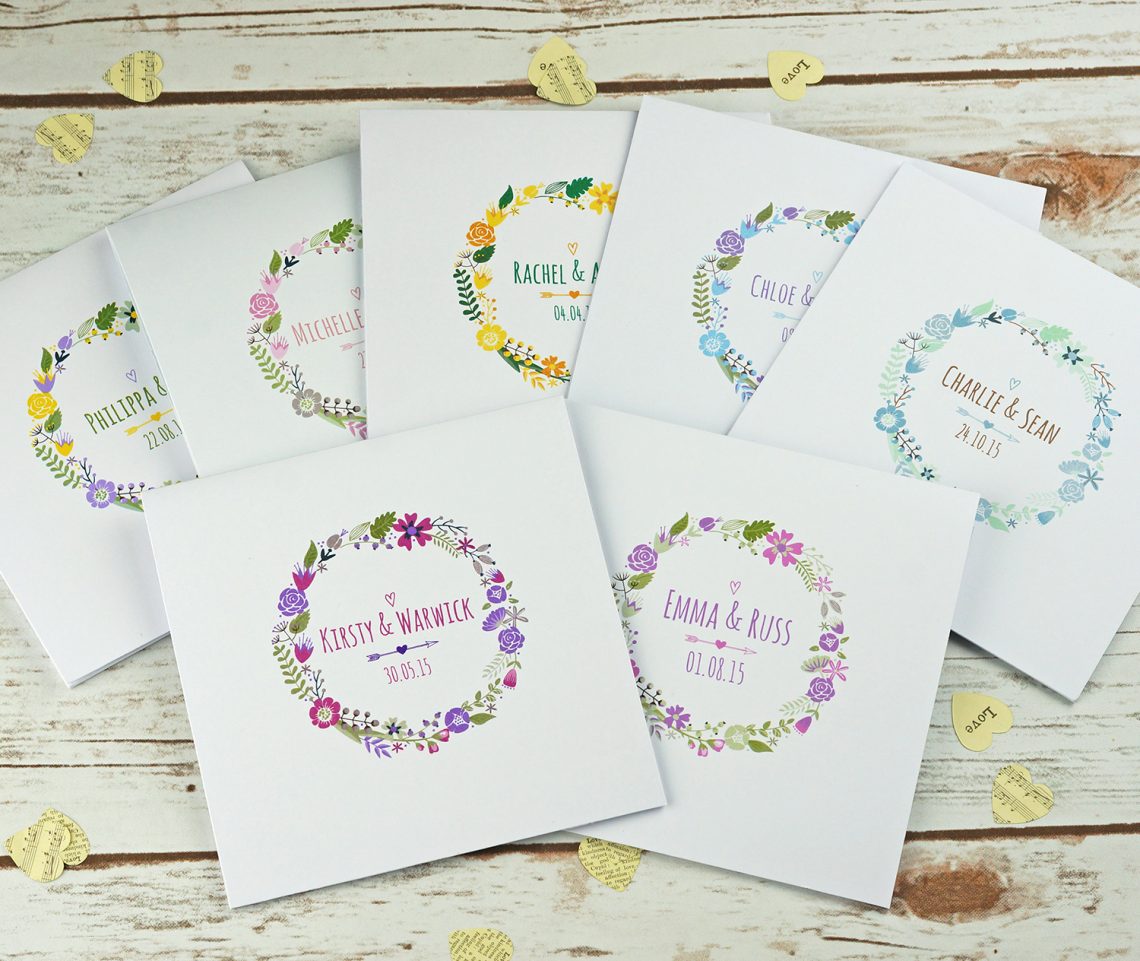 Wedding stationery hand made in the UK.
BlueBird offers a wide range of wedding stationery including: Wedding Invitations, RSVP Cards, Save the Date Cards, Order Of Service Sheets, Table Menus, Place card settings, Table Numbers and Table Plans.
Your wedding stationery, and especially your wedding invites, are the first taste your guests receive of your special day so first impressions are very important! At BlueBird we offer a wide range of styles, made in your choice of colour, and with your wording included in the price! Alternatively if you have something unusual or unique in mind please use our Bespoke Service, feel free to be as creative as you want, I love a challenge!
BlueBird wedding stationery is based in Beautiful rural Hereford, Herefordshire, if you are close I would be happy to discuss your requirements in person. If you are unsure of etiquette for wedding invitations I can advise you of the right wording to use, and the appropriate timings for sending out various items.
---
Latest from Instagram…
---
As featured…
---
Customer reviews
We are both delighted with the invitations, they match the wedding theme perfectly. Everything we wanted April was able to bring our visions to life. Highly recommend.

Ashleigh Edwards


3rd August 2020

Can't thank April enough for the perfect wedding invites she provided for us! She was so helpful and nothing was too much trouble for her. We had so many compliments on how quirky, unique and wonderful our invites were! Unfortunately our wedding had to be postponed. We received an email from April saying how she could offer change the dates pdfs for absolutely nothing! The kindest gesture, thank you so so much April for brightening up a very dark time! Would 100% recommend to anyone who's wanting any kind of invitation ❤️

Tanya Martin


11th April 2020

Dont think i could think of a better time to express my gratitude to April, given recent and current circumstances... Independent buisnesses need a boost. April's craftsmanship, attention to detail and overall approachable, professional and friendly personality shines through! - bearing with me whilst i described the vision in my head... Well, she knocked it out the park. My exact vision doen to thr utter most finer detail. No job is too big or too small. We are absolutely over the moon with our invites, and now they have been sent so are our guests. We've been told that they are 'simply stunning!'. Thank you April, one incredibly grateful bride- who you have continued to make me smile, and provide reassurance given COVID-19 and the possibility our day may not as yet go ahead. We WILL get married, when safe to do so, and i couldn't think of anyone else i would've wanted to make our invites and extended stationary order (yet to place). Thank you!! ❤️

Jessica Ellis


20th March 2020

So pleased with our wonderful fall invites! Would highly recommend & would definitely use again 🍂 👰 April was so helpful, thank you again!

Steph Ellison


9th February 2020

We both would like to say a big thank you to April for creating the perfect save the date, evening and day invitations. They go with our theme perfectly. Thank you for a great service we would highly recommend!

Molly Hazel Cloxton


29th January 2020

I would just like to say thank you so much for making our wedding invitations! We have our wedding last weekend and it was amazing! I can't believe it's now all over! Your invitations were amazing! I was so happy you did a Beauty and the Beast theme! My favourite childhood 💓 Thank you so much again for all your help!

Alice Booth


22nd January 2020

Amazing personalised service and quality products, highly recomend

Lauren Lynch-Hardy


16th September 2019

We have recently ordered and received our save the dates.. very rustic, the exact colour we needed and more than we could have hoped for when they arrived! Thank you so much once again and we cant wait to order our invitations in due course ? xxx

Gemma Mmac


15th August 2019

I ordered my wedding reception invitations through Bluebird and they were stunning! Our actual wedding is taking place in Disney therefore we really liked her Disney themed invitations. We contacted April originally through Etsy and she directed us to her website - we asked if we could have the invitations in bottle green to match our colour scheme. We approved the proof on 13/07 and the invitations arrived today (23/07). Really high quality, perfectly worded and the whole process was simple and quick. I would highly recommend this supplier. High quality invitations, super quick shipping and very fairly priced. Thank you again Bluebird!

Michelle McIntyre


23rd July 2019